Agenda
Every Summit will have it's own focus area. Our first Summit, held on 7 Oct, 2018, under thought Leadership of Tathagat Verma, was focused on helping Lean Agile Change Agents in India do right job. To achieve it, we broke down Agenda in 3 parts:
Create current 'State-of-Agile Transformation in Indian Subcontinent':

We are focusing primarily on Agile Coaching and Consulting here, because they have become the face of Change Agents since Agile revolution. But majority is still limited to Scrum Coaching, and for some or the other reason they are not reaching to the level of Business Agile Coaching/Consulting. And to think of any improvement, we first need to do assessment of current state.

Create an ecosystem for Change Agents:

When we know where we are, the next step will be to see how we can take us to next level, and for that we need an ecosystem to support, nurture and take Indian Lean-Agile Change Agents to next level, so that they can do right and needed job, and not just stay ScrumMasters and Trainers.

Intentional Networking:

For sure we all can still help each other with the abundance we have. You may have two jobs in hand, out of which you might want to give away one, and I may be in dire need of that one. So, let's connect in such a way that we can share, create and multiply our opportunities. This part of summit is specially designed such that an intentional networking can happen.
Who Attended Summit :
30 Change Agents who fell in on of the following categories:
Lean Change Agents who are working as Coaches, Consultants, AgilePMs and ScrumMasters.
Agile Leaders, Transformation Strategists, SVPs and CXOs
Visionaries and Thought Leaders who believe in our vision.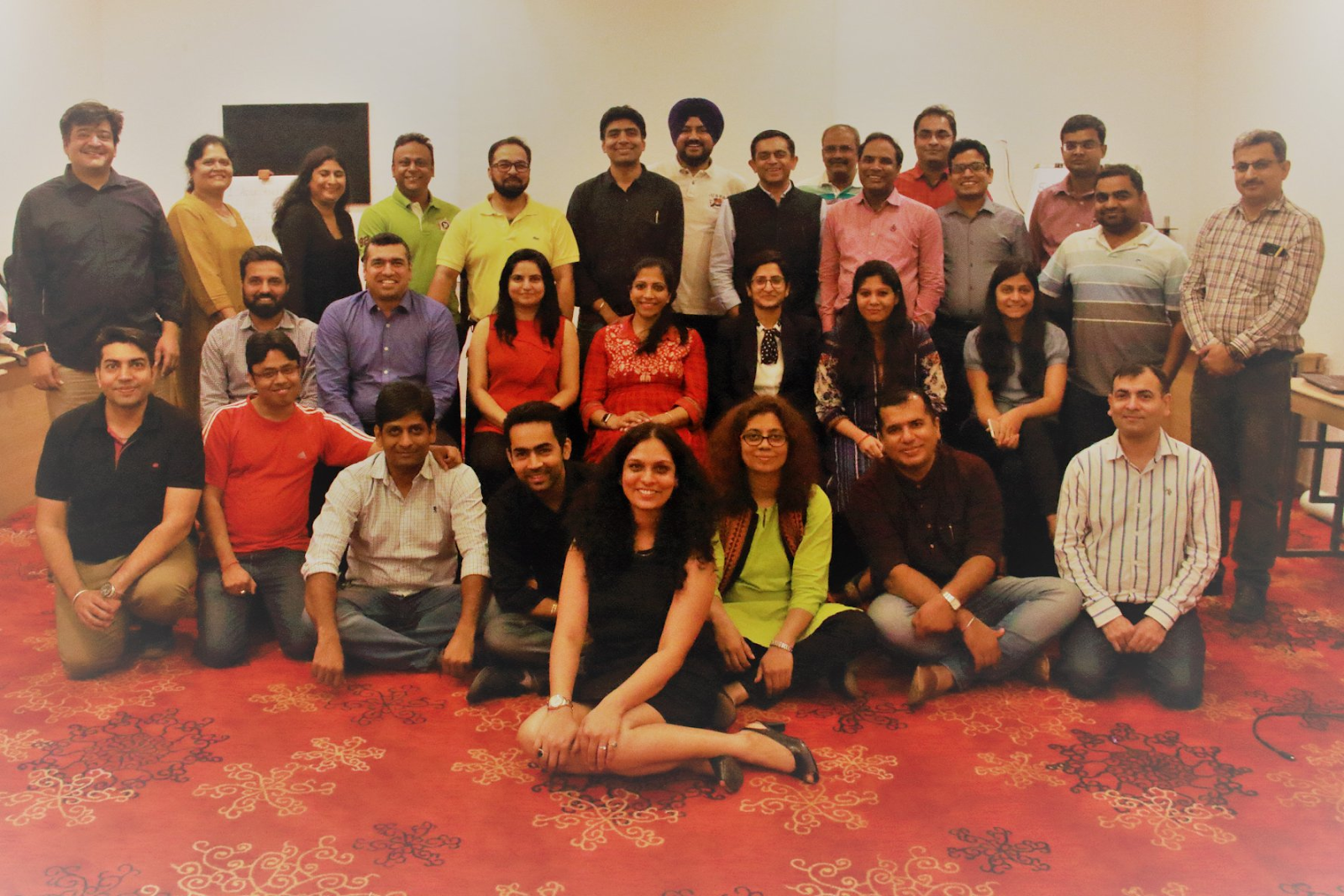 Top Row, L-R:
Abhishek Vatsyayan, Nagini Chandramouli, Purabi Misra, Sumeet Aggarwal, Sandeep Sinha, Manish Sachdeva, Vikramjit Singh, Tathagat Verma, Srinath Ramakrishnan, Vivek Garg, Siddharth Shukla, Mahaveer Bhamasha, Subodh Kumar, Pradeep Kumar, Saurabh Sharma
Middle Row, L-R:
Pawan Kharbanda, Vaibhav Sharma, Sudha Kharbanda, Surbhi, Neha Arora, Sonali Kar, Priya Sharma
Bottom Row, L-R:
Gaurav Anand, Ashish Agarwal, Neeraj Jain, Rajan Julka, Deepti Jain, Vandana Sinha, Dheeraj Sukhija, Praveen Panwar
What happened at Summit:
On 7 Oct 2018, 30 lean agile change agents got together to share their experiences about Agile Transformation attempts their organisations or clients made, distance they covered; and failure and success factors. As mentioned previously, the conference was first Flipped Agile Conference in India where we only provided the loose structure but content and conversations from participants were used to share the ideas and learn from each other.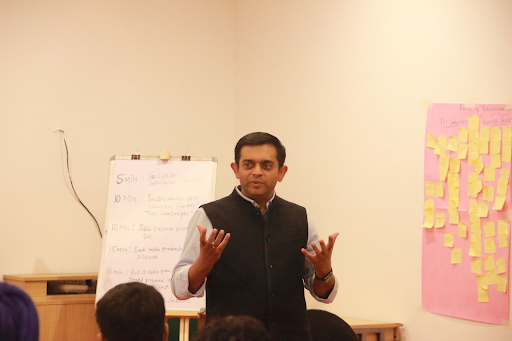 1. Context Setting:
Summit started under Tathagat Varma's thought leadership. He explained Change Agents the intention of Summit and how it could be executed. 4 Change Agents were requested to volunteer for facilitation of 4 sub-sessions around different stages of Transformation progression.
---
2. Day Flow:
Day was divided in 4 parts, loosely based on 4 major Transformation Phases (detailed out later in this report) in an approximate chronological but logical manner:
Initiate Agile Adoption
Enabling Agile Transformation
Scaling Agile Transformation
Sustaining Agile Transformation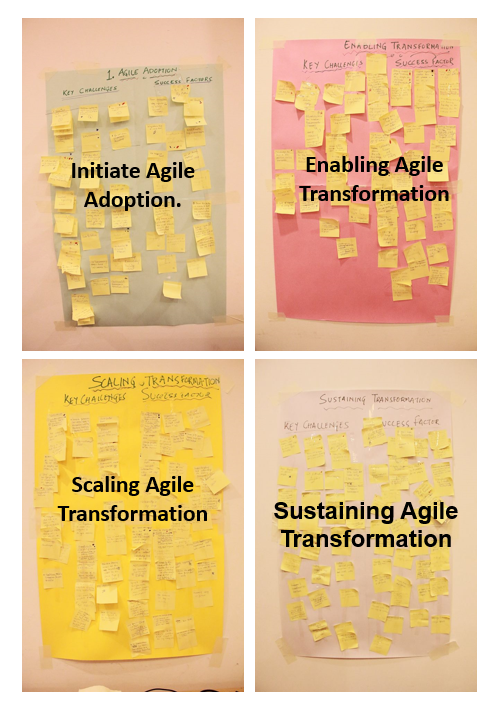 ---
3. Session Facilitation:
4 Change Agents volunteered to facilitate each session. Tathagat Varma shepherded them for the same.
Each session was facilitated on a guiding template as below:
---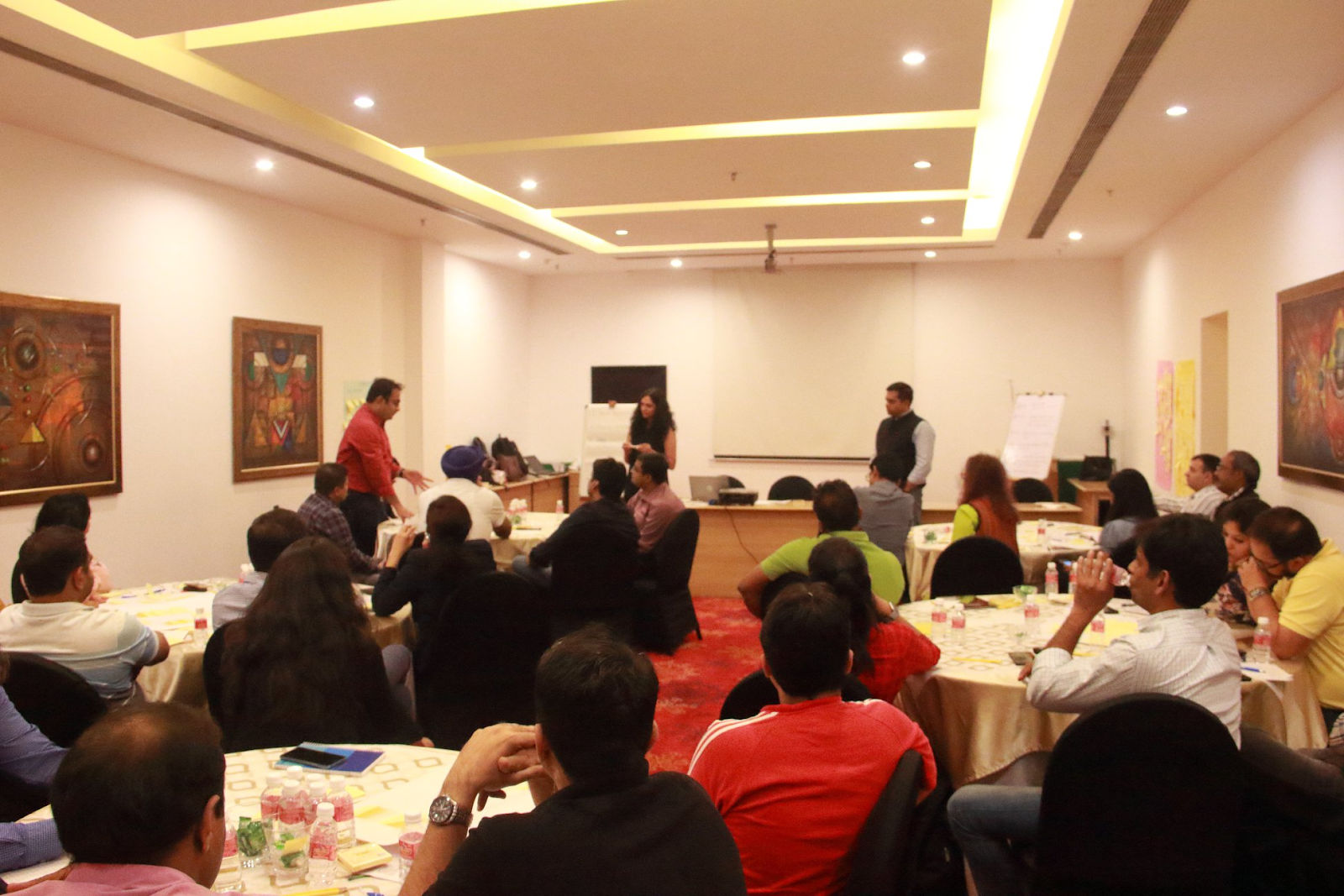 a. Set Objective (5 min):
Facilitator introduces the topic and explains the objective. This helped creating guardrails around the main theme of each session lest the participants veer off tangentially, which is a real possibility in an open-ended session such as this.
b. Brain Writing (15 min):
Individuals on each table lists "Key Challenges" and "Success factors" for the current Transformation Phase. As opposed to the generally followed practice of brainstorming where the conversations typically get hijacked by a smaller number of more dominant participants, and a few topics end up getting monopolized, brainwriting ensures that initial idea generation is much more democratic, both in terms of individuals contributing to the session and the ideas that are being generated.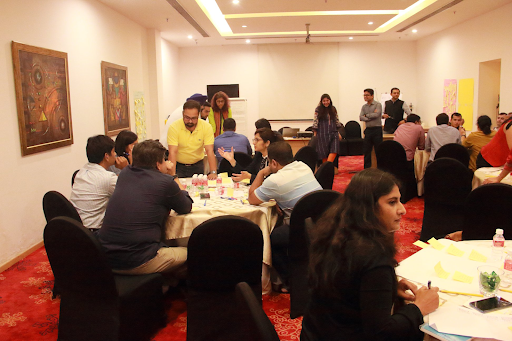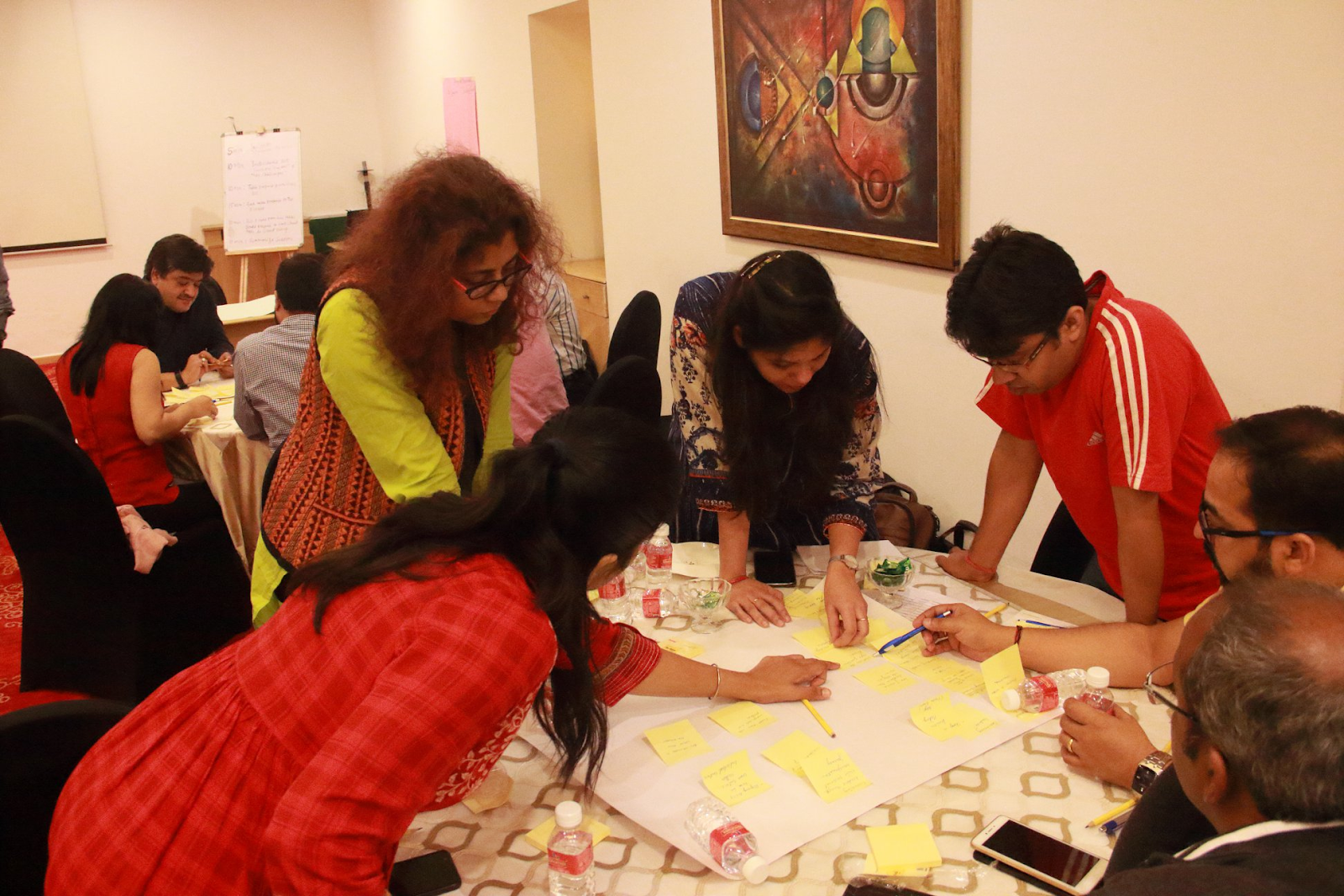 c. Brainstorming and Prioritisation (10min):
After the brainwriting session, each table gets ~8-10 ideas per participants, so there could be upwards of 50+ ideas on a single table alone. While not all of them might be most relevant, practical or relatively-important, it helps capture the entire spectrum for a more thorough analysis. The next step is brainstorming where each table (4-5 participants) discusses and prioritizes the list for their table.
d. Present top ideas (10min):
Each table chooses a member (by rotation) to present its Top 4-5 ideas (2 min each), with any other member pitching-in in case more clarity was required. This allowed ideas to be represented as best as possible with minimum chances of errors of translation or understanding.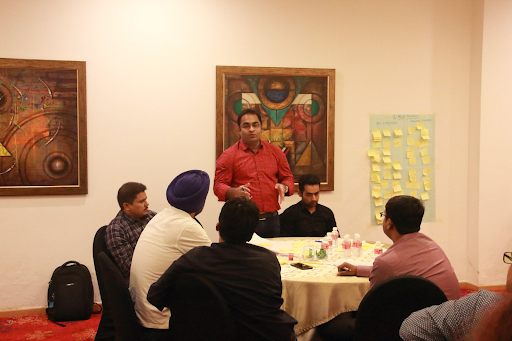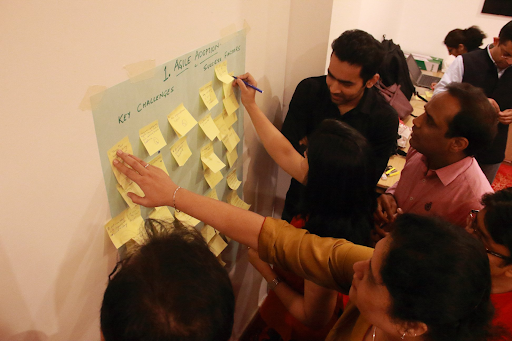 e. Collating ideas from everyone (15min):The post-it notes from all tables are sorted and consolidated on wall charts and archived. Everyone does silent voting on Top 3 issues.
f. Summarise (5 min)
Facilitator summaries the key outcomes of the session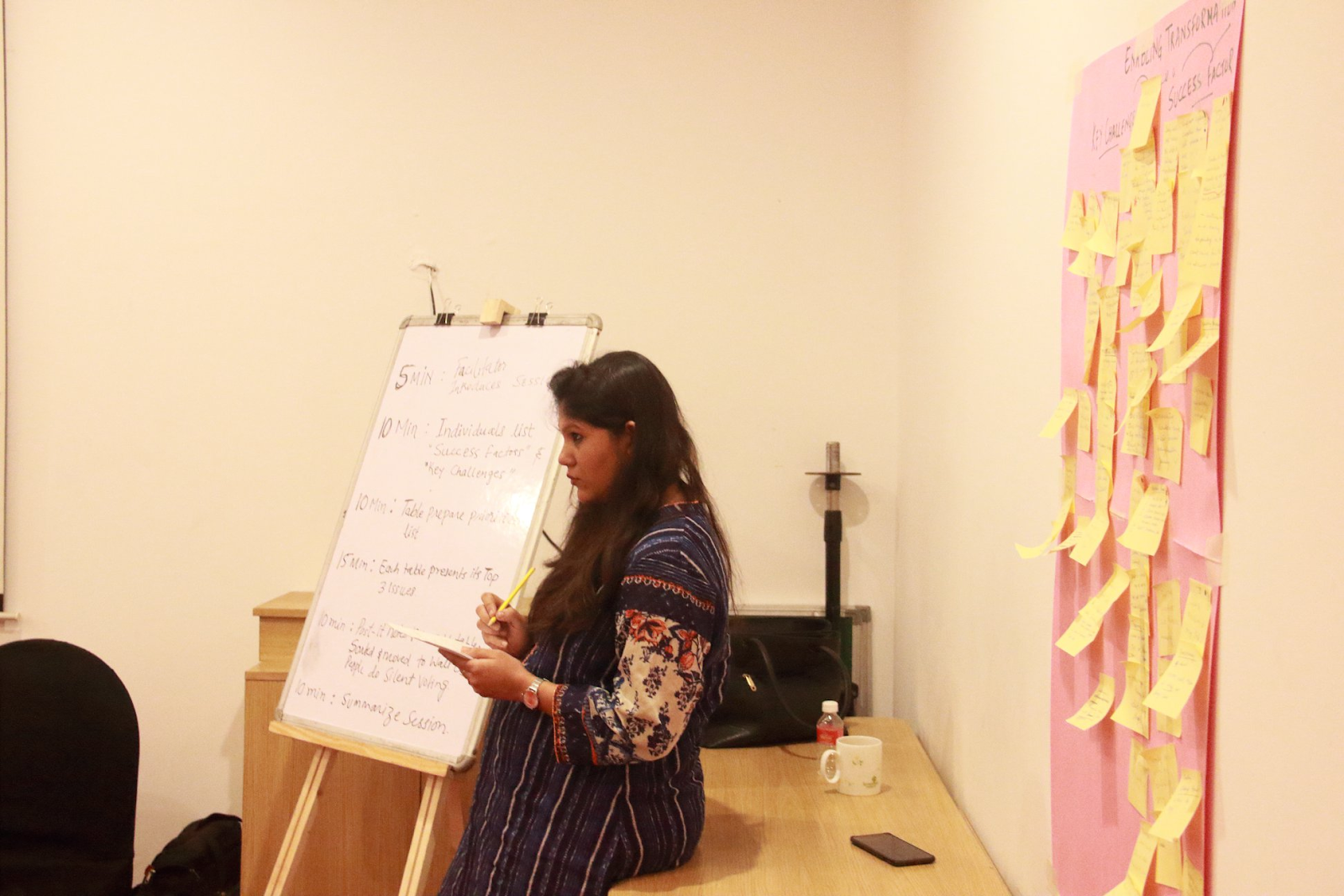 ---
Outcome of 2019 Summit:
We gathered data for "State of Agile Transformation in Indian Subcontinent" and condensed it in a report. The report is further shepherded by "Agile Alliance, and is now available for wider audience. We will continue working on this report every year. Hope you can join us in coming years, and we can help organisational Leader with this report, to create a truly Agile Organisation, which not just focuses on IT & Software Agility, but also achieves Business Agility.